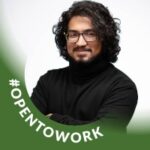 Muhammad Sultan Haider
Filmmaker - Transmedia Storyteller - Video Editor and Student of MDM at TMU
About Freelancer
Welcome to my profile! I'm Muhammad Sultan Haider, a passionate Videographer and Video Editor with a flair for storytelling through visuals. With a proven track record in video editing and filmmaking, I am dedicated to bringing your ideas to life with content.
Skills:
Video Editing: I specialize in crafting seamless, polished videos that engage and resonate with audiences.
Filmmaking: Through a cinematic lens, I capture moments that evoke emotion and tell compelling stories.
Documentaries: I excel in creating thought-provoking documentaries that shed light on important subjects.
Storytelling: With a keen eye for detail, I weave narratives that captivate and leave a lasting impression.
Why Work With Me:
Collaborating with me means partnering with a creative professional who values your vision. I approach each project with enthusiasm, ensuring your story is expertly told through skillful video editing and visually appealing content. Whether you're an individual, business, or organization, I'm committed to delivering results that exceed expectations.
Let's turn your ideas into visual stories!
Contact me today to bring your vision to life through the art of videography and video editing.